Use your marketing department to
Design
Graphic design for print or online
Web development
Development in WordPress or maintenance
Social Media
LinkedIn, Facebook, Instagram
Advertising
Paid advertising: Google Ads, Facebook Ads, LinkedIn Ads etc.
Marketing
According to your business needs
Text and translation
Content, Press, Social Media etc. (incl. Proofreading)
Consultancy
Ongoing advice and development
Google SEO
Get higher placements on Google in the unpaid search results
They know their stuff. Apropos Bureau has with a personal and professional service helped me and my forge with social media and a new website that I am really proud of.

Kristian Otte

Owner | Guldsmed Kristian Otte
"We have been looking for a long time for a good match as a strategic partner in our marketing tasks. At Apropos, we have experienced interest and understanding of our product, and we have experienced that agreements are kept and executed.

Brian Gordon

Director | Ecodel A/S
We are super happy with the collaboration we have built, and we love having the digital help in our team, which can help with a little of everything. I blindly trust Lars and the agency. They have never given me a reason for anything else

Stine Winther Østergaard

Owner | By Stine Winther
In the Sports Universe, it's all about community. That's why the Apropos Bureau fits in well! We always have a super cool sparring about new initiatives. Yes, then I also like that I can get them for almost anything. Thanks for always sharp medal designs and my new webshop.

Mark Laursen

Founder | Sports Universe
We develop and market small and medium-sized companies
Are you the owner, manager or marketing manager?
Do you need assistance in following the marketing disciplines of the time?
We work to make your work easier.
We release your time while creating value for you.
Get your marketing boosted today
Get some peace of mind and let professionals help
Get a rock solid and complete marketing department
Contact us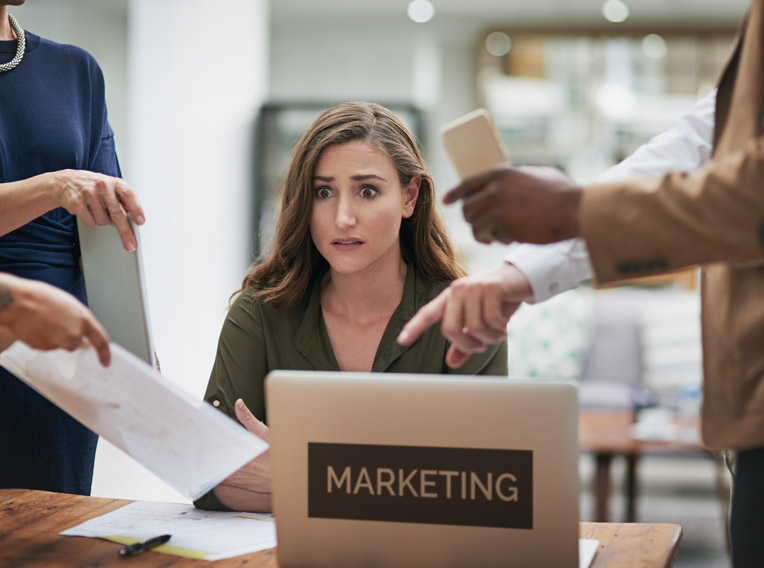 Who needs a marketing department?
Most businesses need a marketing department to a greater or lesser degree.
Apropos Bureau can handle, supplement or supervise your marketing. The collaboration starts based on your needs. Branding? Sales? Visibility? Handling? We set the goals together and clarify a plan, which we continuously evaluate. This ensures that there are continuously launched new initiatives, so your business keep up with developments.
Are you still considering? Choose the solution you are immediately considering and book a meeting in the same place. Then we can meet to assess if there is a match.
It costs nothing to contact us!
Contact us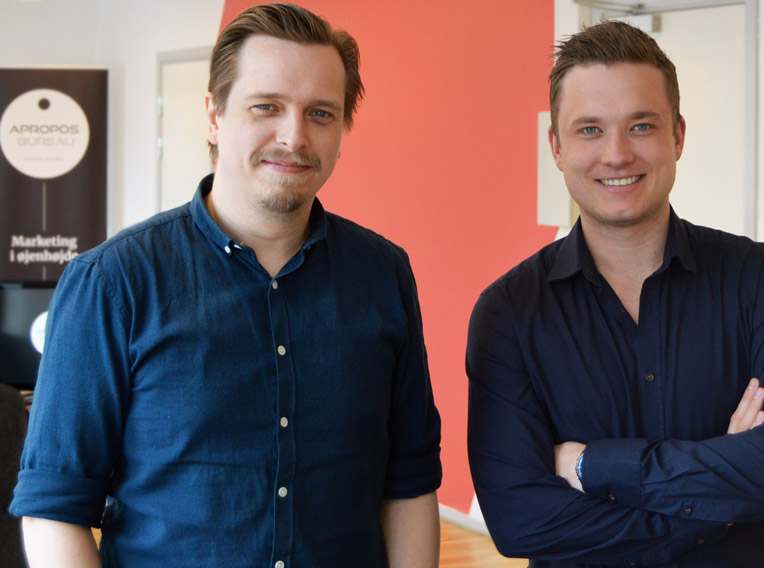 Welcome to Apropos Bureau. We are a local Danish marketing agency based in Aalborg, we are experts at marketing and branding – and we can be your local guide to the Danish market.
We work with marketing from the point of view that it should be simple, targeted and relevant for the individual customer. Additionally, branding is what brings attention to your brand or business and makes it visible across online and offline platforms, and we can help you expose your business to the right audience. We wish to assist you in any way we can, whether it be in the domain of websites, graphic prints, visibility on Google or communication.
In our experience, the advertising industry can be full of riddles; they appear in the form of various technical terms and abbreviations, and so there is not much transparency in regard to what the offered services entail. We wish to be a change in the industry, by offering our customers absolute transparency. We simply want to make sure that our customers understand what we are saying.
Our agency is built from these core values, and therefore we believe that finding the right collaborator and producing quality work for them offers great value – as opposed to doing work for as many customers as possible. Our goal is thus to create a process, where our collaborator understands what we do and why we do it.
We wish to help you with any service you might need, by offering different solutions, so that you can select the solution that best suits your specific needs. It is possible to receive help with a single task or engage us as your permanent marketing partner – or you can choose a solution in between. It is in our interest that our customers get their money's worth.
Company Profile
Get to know Apropos Bureau and learn about our values, resources and services through our company profile.
Strengthen Your Brand by Working with a Marketing Agency
At Apropos Bureau we are not afraid to say that we are experts at marketing and branding. However, in saying that we take on great responsibility – a responsibility we are ready to take on.
We can help strengthen your brand by making your business visible on offline as well as online platforms. With a combined effort in the domains of offline and online advertisement, we can help raise awareness of your brand and business.
Raising the right kind of awareness is key, and therefore we help you strengthen your brand by making sure that your customers know the core values of your business. This means that your vision needs to be clear and present in both the visual and textual aspects of your advertising.
In relation to helping you create the right kind of awareness, we can also help you overcome any cultural barriers, if you wish to enter into the Danish market that may be foreign to you.
Local Danish Marketing Agency as Your Marketing Guide
As an Aalborg based agency, we can be your local marketing guide to the Danish market. We can help you navigate Danish culture and offer you great insight into every aspect of the Danish way of advertising.
If you, as an international business, wish to enter the Danish market, you will need a local marketing team that can guide you, in order to win the Danish consumers' affection. We can be that marketing team.
We have thorough knowledge of Danish consumer behaviour; a knowledge that we will make available to you and that you can benefit from. The purpose for you is not to be exposed to the wide Danish population – but to expose yourself to your target audience within the Danish population.
At Apropos Bureau no task is too small or too extensive – we work with the same commitment, no matter its size. Thus, we are a committed and passionate marketing agency that is ready to help you, in any way that we can.
Professional Marketing Team
In order to be able to help you with any need you might have, we have assembled a competent marketing team with different profiles. Efficient and to the point marketing requires different elements that work together in a harmonious way, and therefore our team consists of individuals with various skills.
Not only experience but also innovative thinking is essential to covering every need within the fields of marketing and branding. Therefore, Apropos Bureaus' marketing team consists of a mixture of people with great experience within the advertising business as well as new talents with fresh minds. Together we are able to cover aspects of both traditional and innovative marketing.
Because of the diversity of our marketing team, we will always have at least one expert with the expertise that you require. Whether it be online presence and visibility, press relations or graphical skills, we have an expert that can help you.
Our Professional Marketing Team Consists Of:
Creative graphic designers, who can work wonders with visual identity, visual communication and all sorts of graphic tasks from printed advertisements to online marketing and everything in between.
Digital specialists with in-depth knowledge of online marketing – everything from search engine optimization and webshop design to online advertising on social media and Google.
Strategic project managers, who cleverly manage every step of a process and handle all administrative tasks on time.
Innovative thinkers, who contribute with exciting ideas that are actually possible to carry out in practise. Creativity and innovation is relevant to include in everything from copywriting to a complete campaign.
Marketing consultants, who can advise you on marketing and offer you creative solutions to your problems.
Together we make up a professional allround-team that will take pride in helping you with all types of advertisement tasks.
Make the Most of Your Local Marketing Agency
Our mission is to create value for you.
In order to be able to do so, we must know what you want to achieve. Is your goal to increase awareness around your brand, to increase the number of visitors on your website or something completely different? When we know what your goal is, we can help you achieve it.
When we have discussed and established your goal, we include you in our planning of how to reach that goal. We want to include you in every step of the process, to make sure that we create the most value for you. If new ideas emerge, or if we discover something that can be profitable for you, we will bring it up. We believe in thinking outside of the box, as:
"No one ever made a difference by being like everyone else"
– P.T. Barnum
This Is How We Will Promote Your Business in Denmark and in the rest of the World
At Apropos Bureau, we work within four central areas. Those four areas are:
Graphic Design
Offline Marketing
Online Marketing
Advertising Campaigns
Graphic Design
Graphic design is essential for visual identity. Your visual identity serves as the foundation of advertising your business, and it involves everything from logo design to online banners.
With our graphic skills, we will make sure that your DNA is clear through your visual identity across offline and online platforms.
Offline Marketing
Offline marketing is the traditional and maybe the most trustworthy way of advertising. This kind of marketing covers everything from printed advertisements to press handling.
We will help you exploit this established and trustworthy way of advertising by bringing innovative thinking into the work.
Online Marketing
Online marketing covers aspects like search engine optimization, social media posts and online advertising. Within online marketing, the goal is to promote your business through relevant digital channels.
We can help raise awareness of your business and maintain visibility in the ever changing and competitive digital world.
Advertising Campaigns
Based on your needs, we can build any kind of campaign. We see great value in advertising across media types, and we will tailor your campaign to the specific needs of your business.
We build creative campaigns based on the core values of your business that target the customers you wish to target. We can do this through channels like TV, newspapers or a mix of online platforms, depending on what makes sense for you and your business.
Our Four Central Areas of Expertise as a Process
Our four central areas of expertise are connected and can be perceived as a process that leads to efficient and appropriate marketing.
Graphic design is the foundation that makes it possible to construct the visual identity of your business. Your visual identity reflects the core values of your business and will be essential for your offline and online marketing that serve as the channels through which your message is published. This message is conveyed through the advertising campaign that targets the customers you want to reach.
We offer to help you with a wide range of tasks that can all be of value to you and your business, and you have different options in regard to working with us.
Two Collaborative Ways of Working with Us
Even though we are an Aalborg based marketing agency, we are able to help you regardless of your location. We have developed two collaborative ways of working with us, so that you may always find a solution that suits you.
Marketing Partner
When you engage us as your marketing partner, we can help you with any need, you might have. By having us as your permanent marketing partner, you are free to choose which tasks you need help with, and if your need changes, we will move on to your new issue. In this way, we function as your marketing department – however, we do not take up any space at your office.
Tasks at Ad-hoc-basis
If you only need help with a single task, it is also possible to engage os on a single-task-basis. Thereby, we can help you with a single specific need, whether it be design of business cards, the construction of a website or something entirely different.
We Will Be Your Communication Partner and Your Local Translator
In addition to being your marketing partner, we can also be you communication partner – and your local translator.
We can solve any creative communication task that you throw our way, whether it be developing a communication strategy or copywriting for slogans, websites or articles. Furthemore, we can help translate your message into a language and style of communication that a Danish audience understands and appreciates.
Emotions do not easily come across in writing, and therefore it is important to carefully consider which words you use, when you want to convey a specific message to a particular group of people. This is especially important to note, if you wish to communicate to a new and foreign audience.
… and, if you have reached the bottom of this page, we have taken up plenty of your time. So, how about we meet over a cup of virtual coffee and discuss how we can help you?
You are very welcome to contact us, Apropos Bureau, for a casual conversation about what we can do for you.