Use your marketing department to
Design
Graphic design for print or online
Web development
Development in WordPress or maintenance
Social Media
LinkedIn, Facebook, Instagram
Advertising
Paid advertising: Google Ads, Facebook Ads, LinkedIn Ads etc.
Marketing
According to your business needs
Text and translation
Content, Press, Social Media etc. (incl. Proofreading)
Consultancy
Ongoing advice and development
Google SEO
Get higher placements on Google in the unpaid search results
They know their stuff. Apropos Bureau has with a personal and professional service helped me and my forge with social media and a new website that I am really proud of.

Kristian Otte

Owner | Guldsmed Kristian Otte
"We have been looking for a long time for a good match as a strategic partner in our marketing tasks. At Apropos, we have experienced interest and understanding of our product, and we have experienced that agreements are kept and executed.

Brian Gordon

Director | Ecodel A/S
We are super happy with the collaboration we have built, and we love having the digital help in our team, which can help with a little of everything. I blindly trust Lars and the agency. They have never given me a reason for anything else

Stine Winther Østergaard

Owner | By Stine Winther
In the Sports Universe, it's all about community. That's why the Apropos Bureau fits in well! We always have a super cool sparring about new initiatives. Yes, then I also like that I can get them for almost anything. Thanks for always sharp medal designs and my new webshop.

Mark Laursen

Founder | Sports Universe
We develop and market small and medium-sized companies
Are you the owner, manager or marketing manager?
Do you need assistance in following the marketing disciplines of the time?
We work to make your work easier.
We release your time while creating value for you.
Get your marketing boosted today
Get some peace of mind and let professionals help
Get a rock solid and complete marketing department
Contact us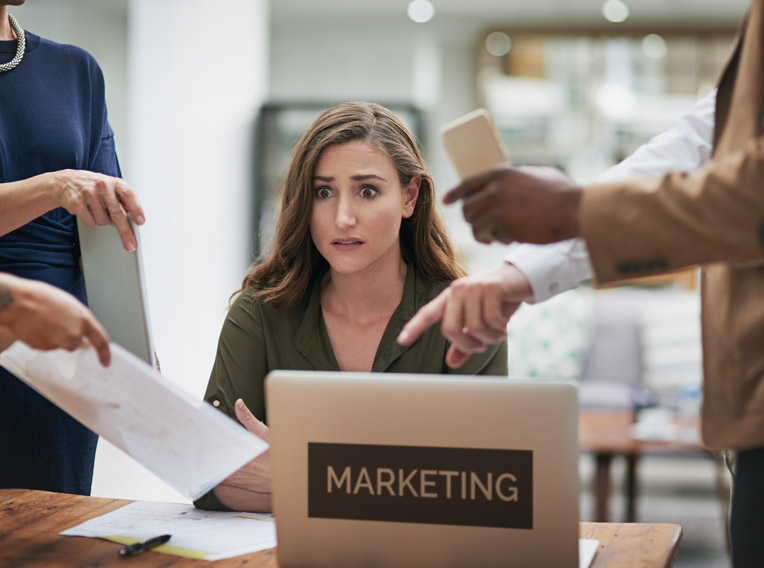 Who needs a marketing department?
Most businesses need a marketing department to a greater or lesser degree.
Apropos Bureau can handle, supplement or supervise your marketing. The collaboration starts based on your needs. Branding? Sales? Visibility? Handling? We set the goals together and clarify a plan, which we continuously evaluate. This ensures that there are continuously launched new initiatives, so your business keep up with developments.
Are you still considering? Choose the solution you are immediately considering and book a meeting in the same place. Then we can meet to assess if there is a match.
It costs nothing to contact us!
Contact us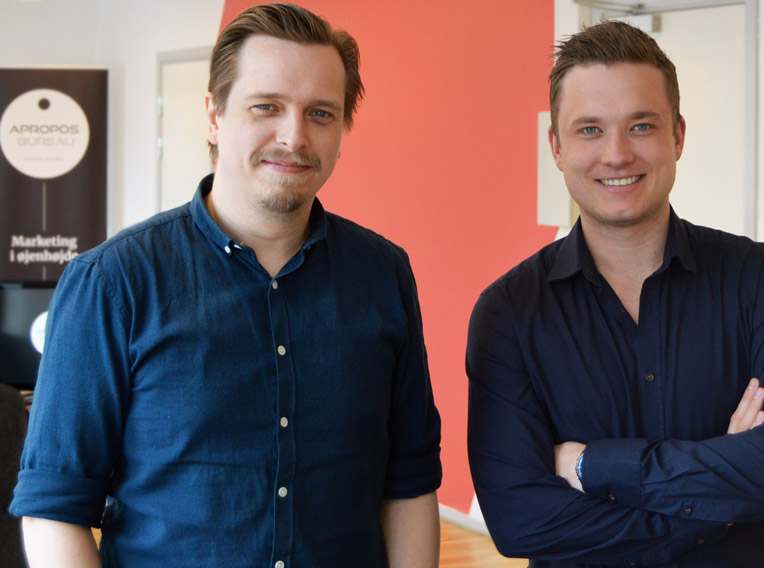 Apropos Bureau: Outsource your marketing
Welcome to Apropos Bureau. We are a local Danish marketing agency based in Aalborg, we are experts at marketing and branding – and we can be your local guide to the Danish market.
At Apropos Bureau, we act as your external marketing department. We work within various areas that ensure you a full-line supplier within marketing initiatives. Which areas you want us to cover is up to you. We can help you within the following areas:
Google – Search engine optimization
Through search engine optimization, we can ensure that your target group will find you on Google. Furthermore, we will make sure that you are number one on your chosen search words.
Social media
We can help you manage your different social media channels. We can help you with content creation both within text and graphics.
Websites and webshops
We can help with web development and maintenance of websites/webshops.
Graphic design
Graphic design is useful when it comes to constructing your company's visual identity. It can be seen as a foundation for your online marketing as well as offline marketing regarding advertising. We can help you with all of this.
Copywriting
Copywriting is essential for your marketing. We can help you with everything regarding text. We can help you with creation of creative content that sells as well as proof reading and translations.
Counseling
We are here to help! We can help you understand the field of marketing as well as teach you within its disciplines. In addition to this, you can always reach us if you want to talk about new initiatives, ideas and results.
Planning/coordination
Strategy, planning and evaluation. Through coordination of your marketing actions, we ensure that your objectives are met. "Reporting and optimization are the keywords".
E-mail Marketing/newsletters
We can help you get started with E-mail Marketing. Furthermore, we can create the newsletters, plan them, and send them out.
Online advertising
By developing an advertising strategy for digital media channels, we can help you increase sales or awareness.
External marketing department
By having Apropos Bureau as your external marketing department, you can gain various advantages. By partnering up with us, you are ensured total access to all the mentioned above services – we then act as your full-line supplier for marketing actions. In addition to this, our collaboration with you is without binding.
By having us as your marketing department, you can prioritize your work towards the important things within your company, while we manage the marketing aspects. Furthermore, we will ensure that sales and awareness increases.
At Apropos Bureau we wish to be an integrated part of your company. This guarantees you that we are invested in understanding your company and what you offer.
Company Profile
Get to know Apropos Bureau and learn about our values, resources and services through our company profile.
We are here to help you navigate in a foreign market
It can be difficult to enter a foreign market with success, due to cultural differences but it does not have to be. By collaborating with Apropos Bureau, we can ensure that your company comes off on the right foot, when entering the Danish market. What does this mean? It means that we have the competences and knowledge needed to communicate to Danish consumers in the right way. Being a Danish marketing agency, we are experts, when it comes to successful communication to Danish target groups. Expert knowledge that will help your company succeed in Denmark.
Prices
At Apropos Bureau, you only pay for the minutes spent on the various marketing assignments you throw our way.
Interested in starting a collaboration with Apropos Bureau? Feel free to book a meeting (offline/online) without bindings.
We Will Be Your Communication Partner and Your Local Translator
In addition to being your marketing partner, we can also be you communication partner – and your local translator.
We can solve any creative communication task that you throw our way, whether it be developing a communication strategy or copywriting for slogans, websites or articles. Furthemore, we can help translate your message into a language and style of communication that a Danish audience understands and appreciates.
Emotions do not easily come across in writing, and therefore it is important to carefully consider which words you use, when you want to convey a specific message to a particular group of people. This is especially important to note, if you wish to communicate to a new and foreign audience.
… and, if you have reached the bottom of this page, we have taken up plenty of your time. So, how about we meet over a cup of virtual coffee and discuss how we can help you?
You are very welcome to contact us, Apropos Bureau, for a casual conversation about what we can do for you.